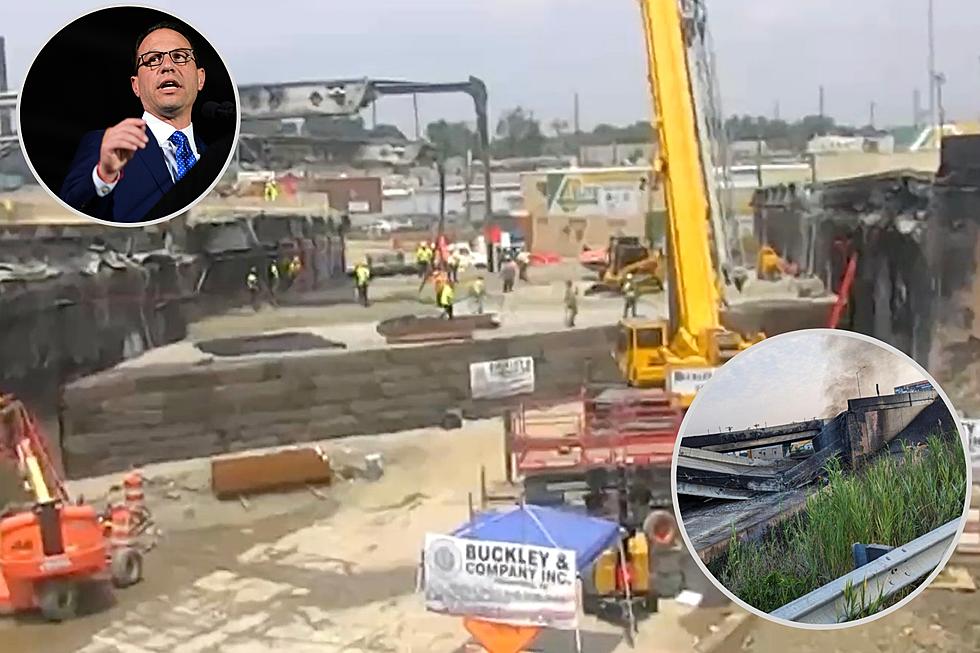 Philadelphia's I-95 Will Re-Open in 'Within Two Weeks,' Governor Shapiro Says
Composite via Getty Images & PennDOT
Great news, commuters!
Interstate 95 in Philadelphia will re-open in within two weeks from now (Saturday, June 17). That's according to Pennsylvania's Governor Josh Shapiro, who shared the shocking update late Saturday morning.
Shapiro shared the news during a press conference with President Joe Biden at Philadelphia International Airport held midday Saturday.
This is all, of course, following last Sunday's bridge collapse on the busy highway, which transports 160,000 vehicles daily through Philadelphia and its suburbs. It also serves as a major thoroughfare for goods and services.
"Today, I can state with confidence, we will have I-95 open within the next two weeks," Shapiro said. "We are going to get traffic moving again — thanks to the extraordinary efforts of our incredible union trade workers and our all-hands-on-deck approach."
President Biden is in town for a 2024 campaign event with a labor union. U.S. Senators John Fetterman and Bob Casey of Pennsylvania were also present at the announcement.
GREAT ADVENTURE SAFETY: One Coaster Closes, Another Opens
President Biden, who did an aerial tour of the interstate, said that there's no more critical infrastructure project in the country right now. Saying he has directed officials to "move heaven and earth to get this done."
Earlier this week, Governor Shapiro announced that PennDOT engineers and the Federal Highway Administration had determined that the "quickest and most efficient way" to reopen I-95 was to backfill an area along the highway near the collapse site and build a six-lane temporary roadway in both directions while a new overpass is built.
The demolition of the southbound side of the roadway was completed on Thursday. The rebuilding of the roadway began immediately after. And crews have been working 24/7 to complete the repairs.
Up until this time, however, Governor Shapiro had declined to offer any details about the exact timeline for the highway to re-open.
Meanwhile, the closure of I-95 has snarled traffic and caused delays on local roads in the area since Sunday morning's closure. 
Earlier this week, state officials launched a live stream showing the 24/7 progress on the highway.
It's unclear how long the permanent roadway will take to rebuild.
Where Are They Now? Looking Back at Philadelphia TV's Most Famous Anchors
From John Bolaris to Larry Mendte and from Lisa Thomas-Laurie to Renee Chenault-Fattah, Philadelphia's media landscape has been shaped by some of the nation's most iconic anchors (and reporters). But where are they now? We take a look back: