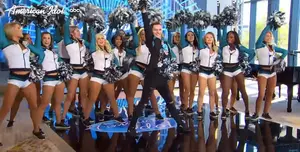 WATCH: Male Philadelphia Eagles Cheerleader's American Idol Audition
Youtube/American Idol
There has been quite a bit of hoopla around the new season of American Idol, which aired Feb. 16 with a two-hour-long episode featuring auditions from multiple locations. This being the third season to air on ABC and eighteenth overall, the singing competition continues to draw the public's attention.
This powerhouse celebrity panel is met with an equally locally famous Philly personality this season. Kyle Tanguay, 21, the only current male cheerleader for the Philadelphia Eagles is loved by his city and has hit the audition stage since the show's airing.
Arriving with his entire professional cheer squad, Tanguay brought more than just his pom-poms. He chose to sing "Mercy" by Shawn Mendes and surprised the judges with his vocal skills. Although nerves were apparent, as the cheerleader hasn't had a private singing lesson in his life, the singer offered a voice that fits the show's idea of a workable talent. He was put through with three "yes" votes with cautioning advice that he has some work to do to.
Let's continue to cheer him on!