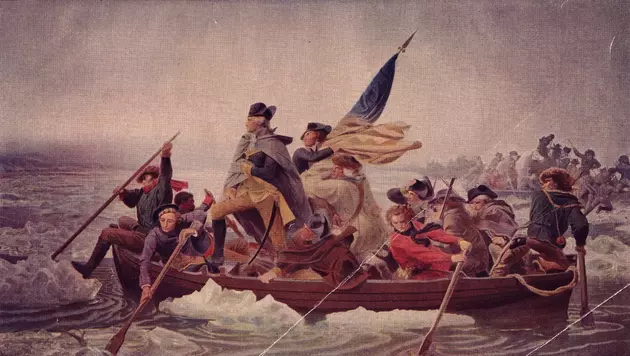 Attend The Christmas Day Reenactment Event At Washington Crossing Park
Credit: Getty Images
When you think of Christmas morning you may think of waking up early to open gifts, a family breakfast, and staying in your pajamas for as long as possible. The one thing you may not think of is George Washington. Yes, I'm writing about the George Washington, the first President of the United States and the person you see staring back at you on the one dollar bill. Believe it or not, it's become a tradition of some residents in New Jersey and Bucks County to attend the annual reenactment of George Washington and his troops crossing the Delaware River on Christmas day.
I've only been once and it was a fun and different way to spend my Christmas. It's really amazing to see the dedication put into the reenactment since the performers are dressed in Colonial clothing and sail through, the sometimes, frigid waters. You really feel like you're transported back in time seeing it all go down live in front of your eyes.
FIRST CROSSING: DECEMBER 9, 2018
TIME: 10 AM to 4 PM (actual crossing at 1 PM)
COST: $8 for adults, $4 for children ages 5-11, free for children younger than 5
DETAILS: In addition to the crossing reenactment, special colonial-era activities and demonstrations in the Historic Village will offer a full day of family fun and learning.
The crossing on Christmas Day is free but may be more crowded.
CHRISTMAS DAY CROSSING: DECEMBER 25, 2018
TIME: Noon to 3 PM (actual crossing at 1 PM)
COST: Free!
DETAILS: This event draws thousands of people each year. We suggest arriving before 1 PM to ensure a good place along the viewing line.
The address of the park is 1112 River Road Washington Crossing, PA 18977. They also recommend arriving a little early on Christmas day to ensure you get a great spot to see the crossing.
If you'd like to start a new Christmas tradition or do something different this year you can attend this great historical event. You can see highlights from a previous year in the video below and get more info here