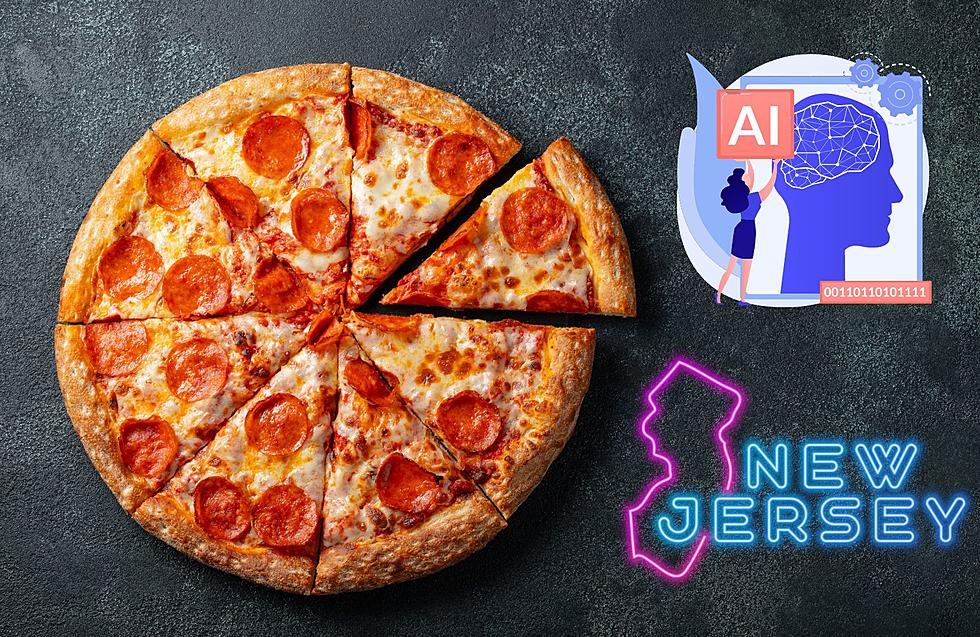 This is the Best Pizza in New Jersey According to Artificial Intelligence
Canva
A.I. or artificial intelligence has been the topic of a lot of conversations lately.
This new technology is fascinating and terrifying at the same time.
It's being reported that A.I. is already helping some companies determine who is going to get laid off.
Imagine that two people's livelihoods are on the line, and an algorithm is the deciding factor.
It's scary, but that's our future. It's not all bad, though.
Have you heard of ChatGBT?
ChatGBT is artificial intelligence taken to the next level.
You are able to have an actual conversation with a chatbot.
What can you ask ChatGBT? Anything. I've been playing around with it here and there when I can.
It's so popular that you often can't log in because there are just too many people using it.
Today, I wanted to show the lighthearted side of A.I. and ChatGBT.
I asked the chatbot "where is the best pizza in New Jersey." 
Sure enough, within seconds the chatbot responded with its selections. Not before saying:
Here are some of the best pizza places in New Jersey, according to various local and national rankings and reviews.
I'm dying to know exactly which local and national rankings ChatGBT used. How many did it scan in the three seconds it took to spit out the results? Did it use my location to cater to my results? So many questions.
ChatGBT gave me seven suggestions for the best pizza in NJ. Here they are in order.
7. Pete & Elda's Bar & Carmen's Pizzeria - Neptune
Pete & Elda's is a Jersey Shore institution. Their thin-crust pizza makes it easy to devour an entire pie. In fact, you get a free t-shirt if you succeed.
6. Porta - Jersey City & Asbury Park
Porta is an amazing place to hold a function, party, or just grab a bite. Both the Asbury Park and Jersey City locations are always packed. The margarita pie is a favorite.
5. Tony's Tomato Pies - Trenton
Tony's always says it's all about the crust. They have been serving old-school Trenton-style pies for decades.
4. De Lorenzo's Tomato Pies - Robbinsville
Isn't that a thing of beauty? De Lorenzo's is considered by many to be the absolute best pizza place in all of New Jersey. They've been serving up tomato pies since the 1930s.
3. Razza Pizza Artigianale - Jersey City
Razza's specialty is the Napolean-style pie. They also use local ingredients to make their pizza.
2. Santillo's Brick Oven Pizza - Elizabeth
Santillo's must be doing something right. They have been serving up fantastic brick oven pizza since 1918. Three generations of love go into each pizza.
1. Star Tavern Pizzeria - Orange
If thin crust is your thing, then you may want to give Star Tavern a try. They have been a staple of the Orange community for 75 years.
There you have it. Did ChatGBT get it correct?
Every NJ pizza joint Barstool's Dave Portnoy has reviewed
Dave Portnoy, commonly known as El Presidente, is the founder of Barstool Sports. Somewhere along the way, he decided to start reviewing local pizzerias, and the concept took off. Here is every New Jersey pizzeria Dave has stopped in, along with the score he gave them.