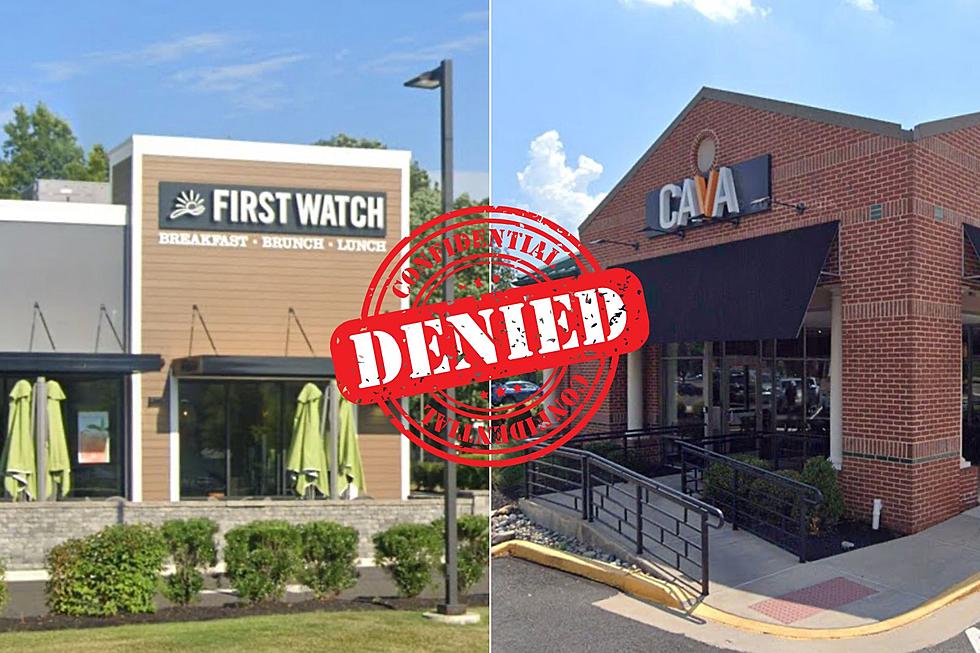 DENIED: Cava and First Watch Denied New Locations in Marlton, NJ – For Now
Google Maps
If you were waiting for these two new brunch/lunch spots in Marlton, bad news: You're gonna have to wait a bit longer.
Applications for a new First Watch and Cava in Marlton, New Jersey have just been denied by the Evesham Township Zoning Board, according to Facebook community page 'A View From Evesham.'
According to the post, the proposed location in the Marlton Commons Shopping Center was previously granted preliminary approval back in 2021.
(Here's the First Watch in Cherry Hill.)
So why was the application denied final approvals? According to the post:
"1) The Board remained unhappy with the proposed traffic flow throughout the site. 2) The applicant had indicated they intend to seek approval from the NJ Department of Transportation to allow another entrance into the shopping center at the most western end (nearest WineWorks), where it is currently exit only. Since there is no guarantee that the state will approve a new entrance, board members seemed reluctant to approve without it."
So basically, it's a very complicated process. But not all hope is lost! There's still a chance this could come intro fruition if the applicants get approval from NJDOT to create an extra entrance and modify the traffic flow. Then they could go back to the board to get that final approval.
If you're not familiar with First Watch, it's a cafe chain for health-minded breakfast, brunch & lunch options.
If you're looking for a healthy, fast-casual lunch with more of a Mediterranean flavor, Cava is a great option!
Hopefully this isn't the end for the new Marlton locations! Are you rooting for First Watch and Cava in Marlton? Let us know!
---
More than 80 Pennsylvania Towns Are on A Ticket Blitz
PennDOT has joined with the Pennsylvania State Police and more than 80 local townships across southeastern Pennsylvania to target aggressive driving with more tickets and citations possible. The 86 townships that are part of this initiative are located throughout Bucks County, Pa.; Chester County, Pa; Delaware County, Pa.; Montgomery County, Pa.; and even Philadelphia, Pa.
Fast Food Chains Mercer County, NJ Desperately Needs
We have our fair share of McDonald's, Taco Bells, and Wendy's in the area, but this is what we're missing!