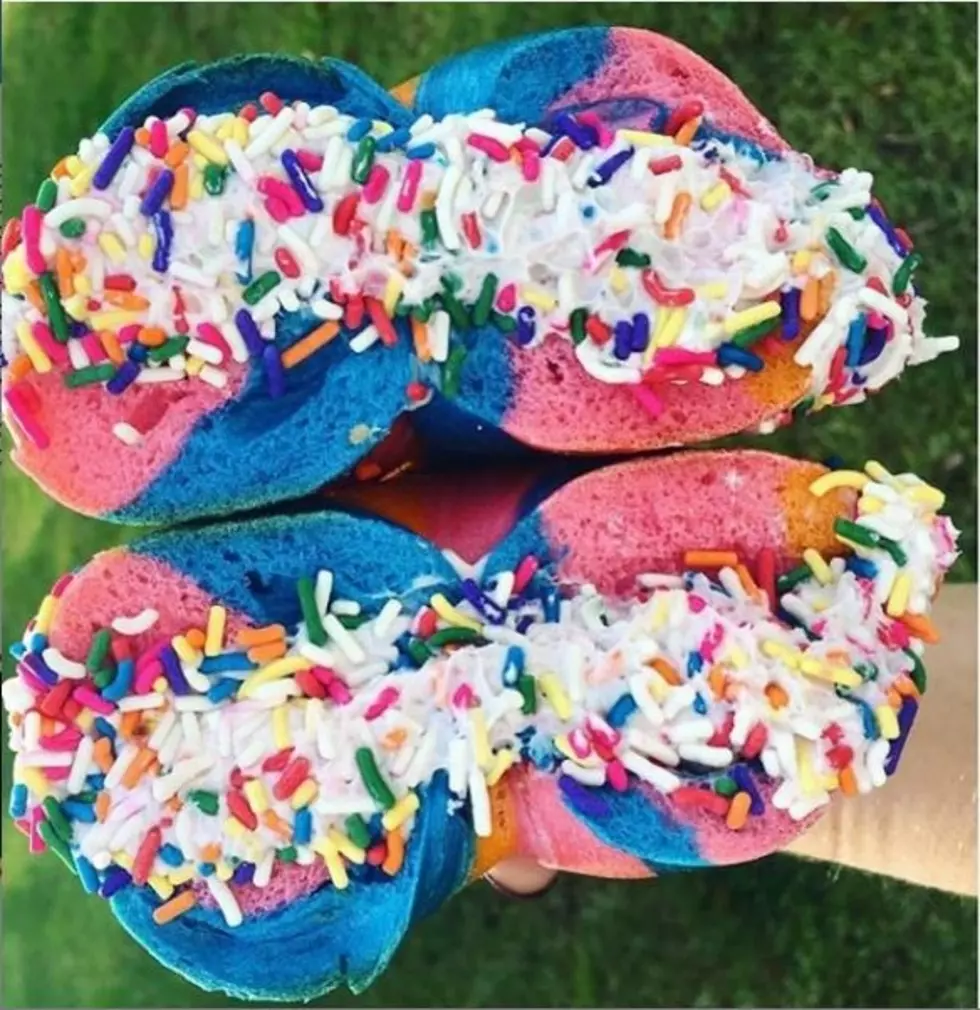 Extreme Bagels Arrive in Princeton
@the_bagel_nook Instagram
Would you try an Oreo bagel? Does a Cheetos bagel sound appealing?  What about Fruity Pebbles cream cheese?
They sound like foodie fantasies, but last week a cornucopia of extreme bagels and crazy cream cheeses descended upon Mercer Country at The Bagel Nook at the Princeton Shopping Center on Harrison St.
Following a few years of taste bud-blowing success and thousands of photos on social media, the owners of the original The Bagel Nook in Freehold, NJ have opened a second location in Princeton, just a mile or so from the town's center. The store boasts a huge menu chock-full of Instagram-ready wonders.
Their bagel list includes Chocolate Chip, Oreo, Dorito, Flaming Hot Cheeto, French Toast, Tie Dye, and many more in addition to Onion, Sesame, Pumpernickel and other standards.  For cereal fans with a sweet tooth, they have encrusted Captain Crunch, Fruity Pebbles and Cocoa Puffs bagels.
The "Crazy Cream Cheese" menu is even bigger, and reads like an ice cream parlor's: Pumpkin, Maple Bacon, Cookie Dough, Fudge Brownie, Cannoli, Vanilla Milkshake, Apple Pie, Strawberry Shortcake, M&Ms, Sugar Cookie, Brownie O, Nutella, Cookie Monster, Blueberry, Peanut Butter Fudge and Sweet Cream.  The flavors that run more savory -- but still unexpected -- include Cool Ranch, Bacon Cheddar, Veggie Ranch, Jalapeno Cheddar, Peanut Butter & Jelly, Olive, Blazing Ranch, Lox, and the scary-sounding (at least for my sensitive taste buds) Ghost Pepper.
There's also a specialty "Butter Bar" with Vanilla, Garlic Herb, Siracha Honey, Orange Honey, Cinnamon Brown Sugar, and Veggie.
Of course you can mix and match (though a Cocoa Puff bagel with Cool Ranch cream cheese sounds pretty gross), but The Bagel Nook seems to be most proud of its pre-concocted combinations which they call "Overloads."
Some of the most outlandish / tasty include:
- Fruity Pebble Overload: Birthday Cake Cream Cheese and fresh strawberries on a Fruity Pebble bagel
- The Elvis Overload: Peanut Butter Swirl Cream Cheese with sliced bananas and bacon on a French Toast Bagel
- Chocolate Fudge Overload: Nutella Cream Cheese and crushed brownies on a Cocoa Puff Bagel
- Dorito Overload: Jalapeno Cheddar Cream Cheese and Doritos on a Dorito Bagel. \
- Flaming Hot Cheetos Overload: Ghost Pepper Cream Cheese and Cheetos on a Flaming Hot Cheetos Bagel
They also have a variety of pancakes, and will stuff their homemade Challah French Toast with the sweet cream cheese of your choice.
For traditionalists, the shop also offers muffins, paninis, sandwiches, soups, and burgers. There's also giant sandwiches stuffed with grill items like fries, chicken tenders, mozzarella sticks, onion rings, and steak, which certainly take inspiration from Princeton's own Hoagie Haven and the erstwhile Rutgers Grease Trucks.
But after an Oreo Bagel with Cookie Monster Cream Cheese and and Chocolate Chip Cookes stuffed inside -- called the "Cookie Monster Overload", a simple salad seems most appropriate for dessert. They offer those too.
The Bagel Nook is located at the Princeton Shopping Center at 301 North Harrison St in Princeton and online at TheBagelNook.com. Their full menu is online and here's more of their insanity: