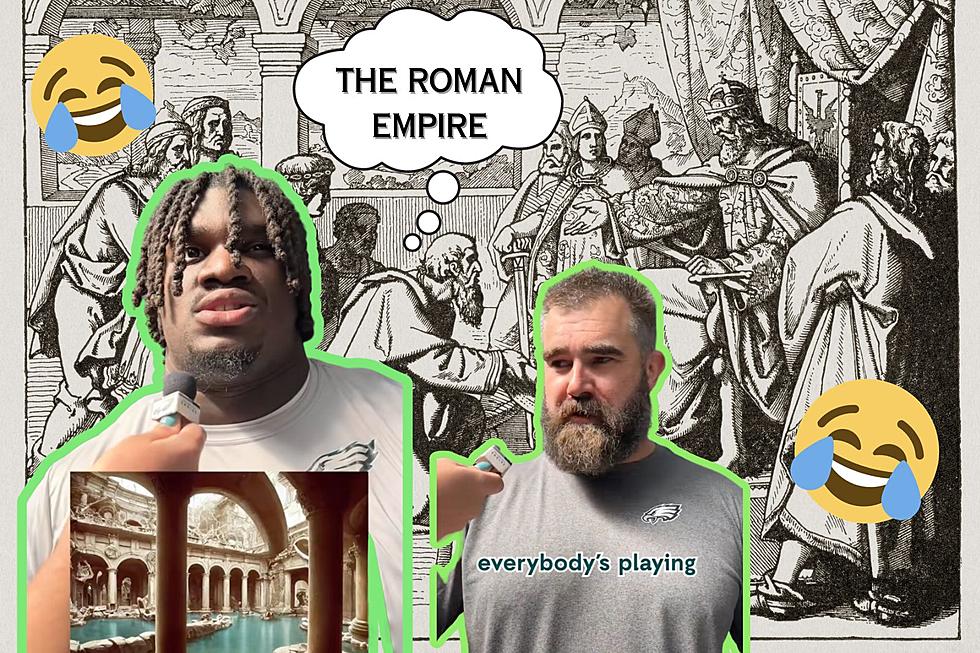 LOL: How Often Do The Philadelphia Eagles Think About the Roman Empire?
Credit: TikTok @philadelphiaeagles, Getty Images
I'm not sure how this trend came about, but it's actually pretty fascinating?
There's a growing trend on social media of men being asked possibly the most obscure, random question there is: "How often do you think about the Roman Empire?"
You would think that the normal response to such a strange question would be "The Roman Empire? Why would I think about the Roman Empire?" But no!! For some inexplicable reason,  A LOT of men think about it on a regular basis!
Don't believe me? Take a look at this viral compilation on TikTok! One guy even said he thinks about it twice a week!
The trend has gotten so popular that it's caught the attention of The Philadelphia Eagles' media team. They thought it'd be fun to candidly ask the players how often they think of the Roman Empire - and the results are priceless!
Take a look at the video down below!
I love how Jason Kelce is just as confused as the rest of us!
But seriously, why DO men think about the Roman Empire so often?? Do they watch "Gladiator" every month? Do they ruminate on the assassination of Julius Caesar?
Try to ask the men in your life the same question - you may be surprised. Although when I asked my significant other the same question, he had no idea what I was talking about. If you ARE a guy... explain what this obsession is all about!
---
Here Are 10 Popular Sports Bars in Central Jersey
Rated as favorites on Yelp! Go Sports!
This Palatial $7M Mansion in New Hope, PA is Fit For Royalty
Marble... Marble everywhere!