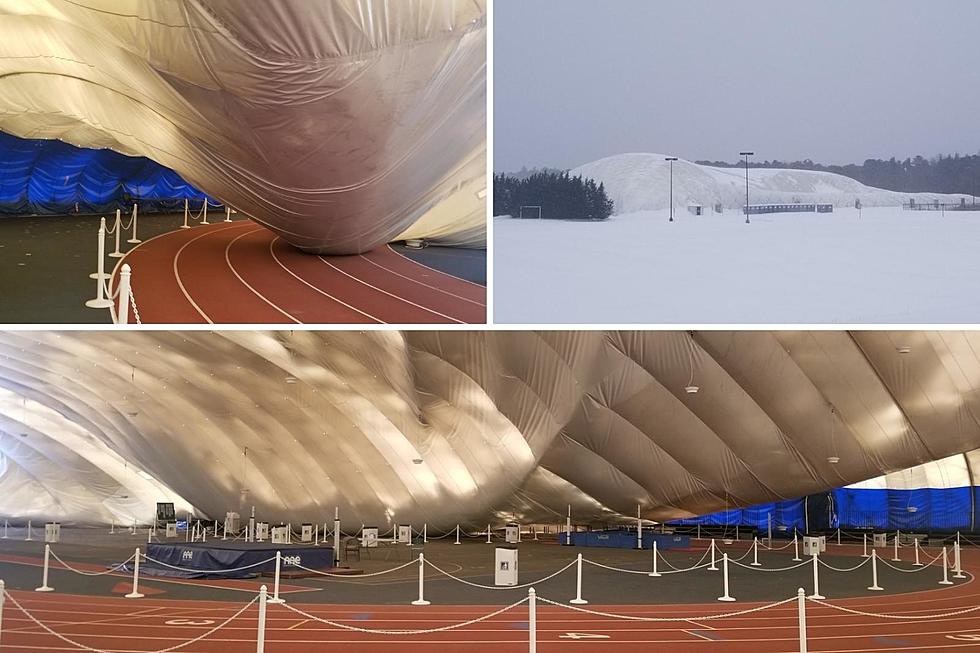 Toms River Schools' Indoor Track Bubble Partially Collapses During Blizzard
Composite via Toms River Fire Prevention Inspectors IAFF Local 5303, Facebook
Saturday's blizzard, which dumped nearly 20" of snow in Ocean County, caused a partial collapse of the Bubble in Toms River.
Toms River School officials confirmed that The Bubble, known as the John Bennett Indoor Athletic Complex, had been "compromised" by the weather.
"The John Bennett Athletic Complex Bubble was compromised by the accumulation of ice, snow, and wind, and the pressure those elements caused," Michael Kenny, a spokesperson for the district explained via email to Townsquare Media Saturday evening.
Officials say they constantly monitor the condition of the bubble during similar storms, so he said that officials knew about the situation immediately,
The property was inspected by local officials and the designer of the Bubble on Saturday, Kenny revealed.
The Bubble was deflated — in stages — Saturday afternoon in consultation with Asati, the manufacturer and designer of the Bubble.
No damage or rips in the roof were immediately reported. "Thus far, no damage such as rips or tears has been reported, although it's difficult to accurately assess at this time because of the weather," Kenny told us.
The structure will be reinflated once the weather and structure are deemed safe.
The Bennett Indoor Athletic Complex is an air-supported structure that hosts indoor athletic events for the Toms River Regional Schools.
It's located between Hooper Avenue Elementary and Toms River Intermediate East located on Hooper Avenue in Toms River.
It first opened in the 2005-2006 school year. It sustained damage in Hurricane Sandy in 2012, but it re-opened by the following January 2013.
More From Saturday's Snow Storm
New Jersey & Pennsylvania Snow Totals for The Blizzard of 2022 - January 29, 2022
How much snow fell on Saturday, January 29, 2022 (The Blizzard of 2022) in New Jersey and Eastern PA? Here's a complete breakdown:
Best Places to Go Sledding in Mercer County, NJ After a Snow Storm
From Pennington to Ewing and Hamilton to Hopewell, I rounded up some of the top-rated places to go sledding in Mercer County.