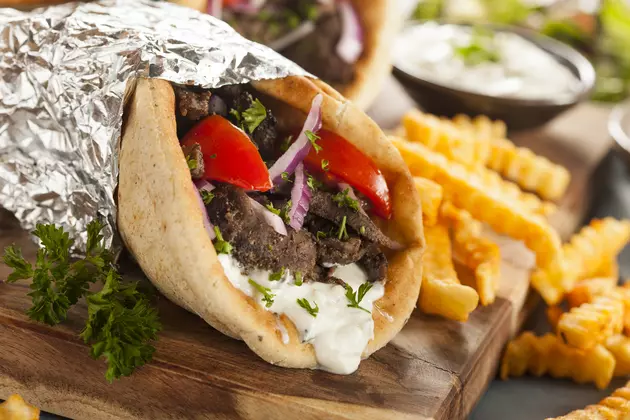 Where To Get The Best Gyro In Mercer County
Credit: Getty Images/iStockphoto
I might be a little biased when it comes to Greek food since I come from a Greek background, but I do love Greek food. I especially love gyros. I know sometimes there's confusion about how to properly pronounce gyro, but you don't need to be an expert when it comes to eating them. Call it whatever you want. Call them "yee-row" or "ji-row" I don't care. If you want to laugh you can watch the song Jimmy Fallon and Luke Bryan did together about the pronunciation of gyro below.
I just saw a cool article from Community News about one person's mini Greek food tour of Mercer County. I was curious to see what he thought about the different restaurants in my local area. He visited three establishments: Pi Greek American Grill also known as Pi Pita & Pizza, Mikonos, and The Simple Greek. Below you'll see what he thought of them.
Pi Greek American Grill/Pi Pita & Pizza in Hamilton, NJ
- Gyro was big and served with a great portion of french fries
- It was served traditionally wrapped in foil
- Loved the pita and described it as the perfect combo "of fresh-soft and toasty-crispy"
- Lamb and beef gyro meat was very tender and tasty
- Impressed by saganaki which is sauteed cheese that's then lit on fire before it's served to you. *No need to worry that you'll be served a dish that stays on fire because the flame is put out by the server by dousing it with lemon juice
- Liked the size of the baklava he ordered and liked how moist it was
The Simple Greek in Hamilton, NJ
- Liked how it was like "the Greek Chipotle"
- You can order your gyro in a pita or in a bowl over rice, salad or lentils
- Favorite part was the Greek fries
The article was a fun read even though there was not a clear winner since he enjoyed his time eating and sampling all the food during his "three-day Greek extravaganza." Hopefully this list helps you determine which place you'd like to visit. If you're hungry for more details about his place he visited feel free to read his full reviews here