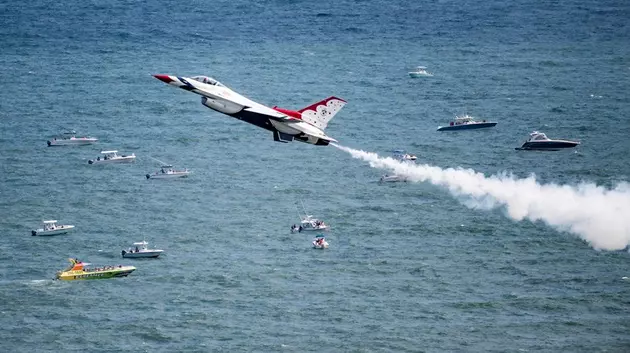 Atlantic City Airshow This Wednesday
Credit - Atlantic City Airshow/Facebook
The annual Atlantic City Airshow is this Wednesday, August 21st, over the beaches of Atlantic City, according to Atlantic City's website.
I knew it was coming soon, because it's usually around when we're on vacation in neighboring Ocean City (a little further south). In years past, we've caught it and it's a cool sight.
It's the 17th Annual "Thunder Over The Boardwalk." The website says this year's show will feature the U.S.A.F. Thunderbirds, U.S. Army Golden Knights, Royal Air Force Red Arrows, as well as, the GEICO Skytypers and the Miss GEICO Offshore Race Team.
It's free, so get as close as you can, and look up. For good viewing areas, click HERE. For premium viewing area, click HERE.  It's a great entertainment for the whole family.
If you can't make it on Wednesday, you can catch their practice day which is the day before the show, tomorrow, Tuesday, August 20th from 11am - 3pm.
For more information, click HERE.