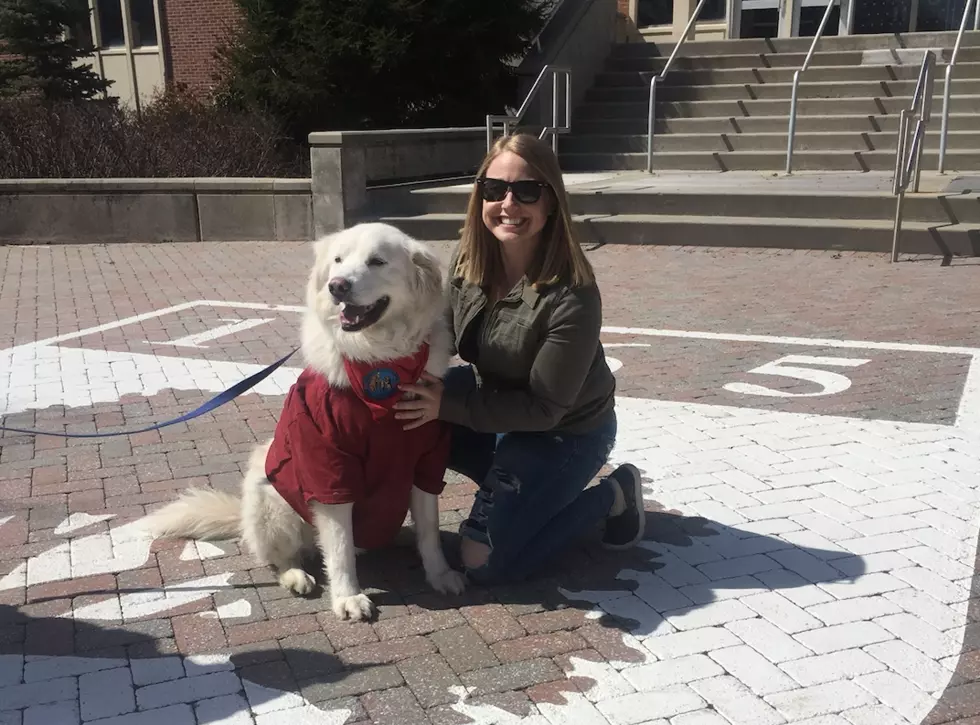 Meet Cody! Rider University's Therapy Dog!
Credit: Phonechick Tiffany
If you don't know this about me, I absolutely love dogs! I always had one growing up and this is actually the first time in my life that I don't. My dog baby passed away about 3 years ago and I don't want to have a dog in our tiny apartment. But, rest assured, once we buy a house, we're getting a dog! Dogs bring so much comfort and happiness to people and this was the idea behind Pet Pause at Rider University.
This adorable white fluffy guy you're seeing pictures of is Cody. Cody is a great pyrenees/ shepherd mix and is a licensed therapy dog from TDI Therapy Dogs International. Every Wednesday, Cody and his owner Bettina Bunting come to Rider University to bring some comfort to students. They set up shop in the Vona Annex next to Daly's Dining Hall and from 12-1pm, students come by and take a "pause" from their day and visit with Cody. We were able to take Cody to the library and let me tell you, you wouldn't believe how many students came up and wanted to pet him and spend time with him. I mean, who can blame them? He's a cutie!
Pet Pause was started by the Outreach Team of Rider's Counseling Center who would hold pet therapy events once a semester, but students benefited from the events so much, they decided to make it more frequent! Since Cody has been coming to Rider, he has been visited by over 100 students. Transitioning into a new stage in life like college can be very stressful for students and Cody provides comfort, connection, and affection, which are things that students tell the Counseling Center they are lacking in their lives. The Outreach Team of Rider's Counseling Center consists of 3 graduate students and their supervisor Lisa (pictured below) and they have really come up with a wonderful program! Cody is a wonderful addition to Rider University and I loved being able to meet him!