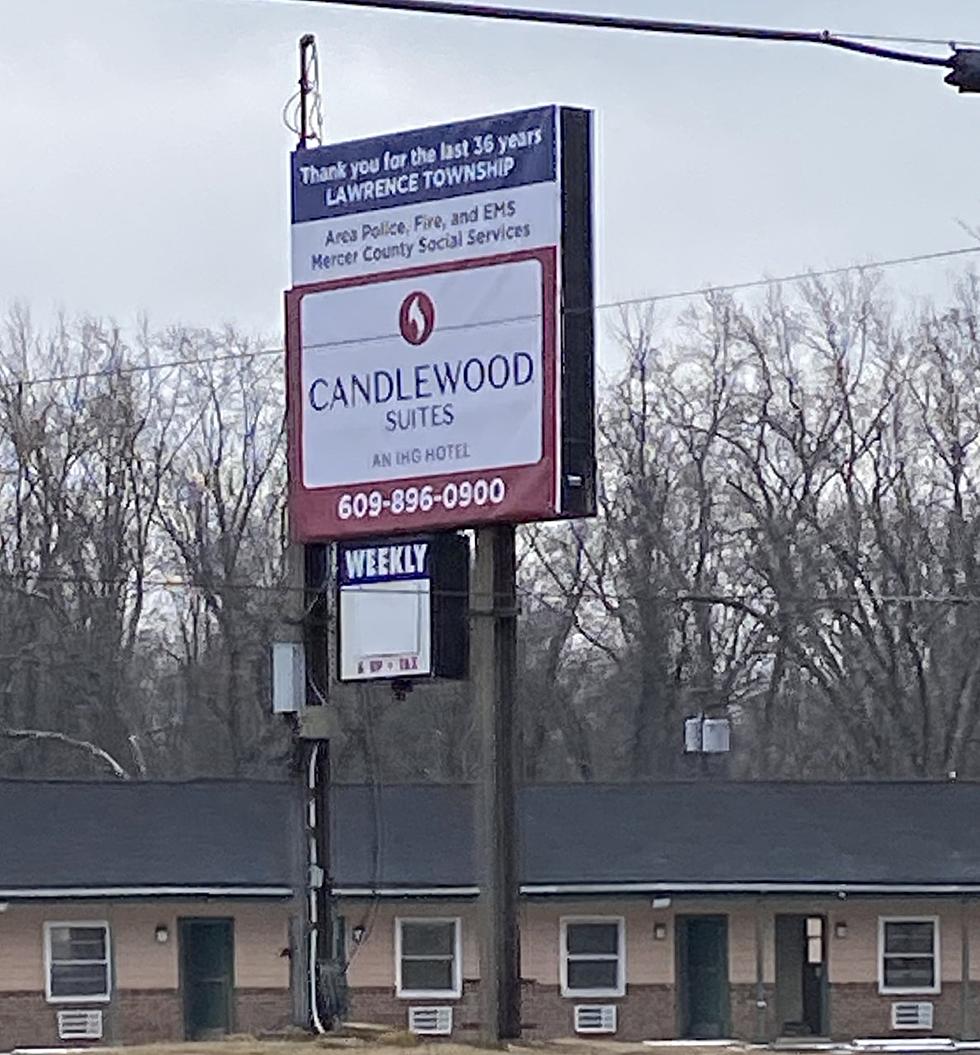 New Hotel to Replace Sleepy Hollow Motel on Route 1 in Lawrence, NJ
Chris Rollins
Wow. It looks like a new hotel is coming to Route 1 North in Lawrence Township. A sign just went up that Candlewood Suites will be replacing the Sleepy Hollow Motel.
The sign reads, "Thank you for the last 36 years Lawrence Township, Area Police, Fire, and EMS, Mercer County Special Services."
Intrigued, I called the number on the sign and had the nicest chat with Sapan Desai. The Desai family has owned the Sleepy Hollow Motel since 1985, and were operating it until the remnants of Hurricane Ida left the property will severe flooding damage. Instead of fixing up the aging property, the family has decided to embark on a new project.
Did you know that the motel was built back in the 1950's when roadside motels were very popular? Back then, there were no reservations. Travelers just stopped in for a night or two, before heading to their next destination. Over the years, things obviously changed, and so did the motel's business plan.
You also may not know that the Desai family provided a great service to those in need throughout the area. They kept their room prices low to allow for those less fortunate to have a place to stay. Some came through the state, the county, and Lawrence Township, others came on their own.
Desai told me the current buildings will be torn down and they will do some shifting of their own soil to prevent flooding in the future.
I'll keep my eye out for any future progress.
Candlewood Suites is a hotel chain that offers extended stays. The rooms all have a kitchenette and there are plenty of amenities. Click here for more details.
22 Businesses We Want to Open in Mercer County, NJ in 2022
Mercer County, NJ is home to a TON of great businesses (especially locally owned and operated businesses). But I recently asked my Facebook friends which chain retailers and businesses they wanted to see come to our area, and they helped me make this list below with everything from restaurants, to fast food to shopping and more... these are the 22 businesses we want to open in Mercer County in 2022.
25 Stores (and Restaurants) You're Demanding at the Quaker Bridge Mall in Lawrenceville, NJ
We LOVE the Quaker Bridge Mall on Route 1 in Lawrenceville, NJ. So had to make a list of what our demands are for the mall. Wouldn't it be nice if some of these stores opened right here in Mercer County? Here's the list you helped us make: