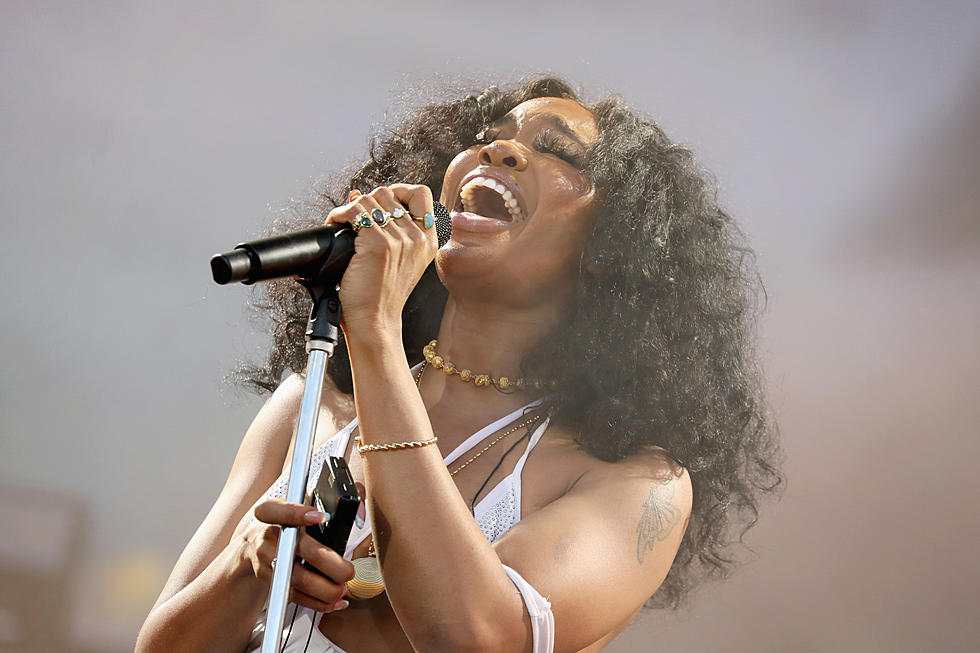 Everything You Need to Know For SZA & the SOS Tour at the Wells Fargo Center in Philadelphia 2023
Getty Images for Something in th
UPDATE: SZA's PHILADELPHIA CONCERT, WHICH WAS SCHEDULED FOR MARCH 2, HAS BEEN POSTPONED. CLICK HERE FOR THE LATEST INFORMATION.
The big event is ALMOST here. SZA is bringing her first headlining arena tour, SOS Tour with special guest Omar Apollo to the Wells Fargo Center in Philadelphia on Thursday, March 2, 2023.
The tour is named after the insanely popular SOS album, which has topped the Billboard 200 for 10 straight weeks (so far). 
And the concerts have been living up to the hype so far, we cannot wait for SZA to arrive in the City of Brotherly Love. In fact, RollingStone.com unequivocally said the tour lived up to the hype on the first night. 
From setlists to parking to opening acts, we put together a list of EVERYTHING you need to know ahead of the show:
What Time Is SZA's Philadelphia Concert?
The "show" begins at 8:00 pm, according to arena officials at the Wells Fargo Center.
However, we have more insights on the set times posted below.
Is There An Opening Act for SZA's Concert in Philadelphia?
Omar Appollo is joining SZA on the tour as the opening act in Philadelphia. He was just nominated for "Best New Artist" at this year's GRAMMY Awards.
What Time Will SZA Perform in Philadelphia?
We've dug into the set times from some of SZA's first stops on this tour, and she appears to have taken to the stage at exactly 9:15 pm each night so far.
Trust us though, if you're hanging out at the Wells Fargo concession stands or pregaming at Xfinity Live! before the show, don't push it too close.
It's probably best to be in your seat no later than 9:00 pm. You don't wanna miss ANY of this completely sold-out show.
What Is the Setlist for SZA's Philadelphia Concert?
We dug into some of their past shows to find what we expect their setlist to be on March 2.
We know, however, that not everyone wants to see that info ahead of time. Click here for the setlist, which may contain spoilers.

SZA IN PHILLY: SEE THE SETLIST
Are Tickets Still Available for SZA's Philly Concert? How Can I get Last-minute SZA tickets in Philadelphia?
The event appears to be COMPLETELY sold out on the Wells Fargo Center's official website. It is possible that some last-minute tickets may be released on the website this week, so keep checking back. We've seen it happen before, however, this is a hot ticket.
So there are, unfortunately, no guarantees.
We've checked some of the resale ticket websites like Stubhub.com and the TickPick app, and the cheapest seats we can find are priced over $400, as of Tuesday.
Prices will fluctuate, but some individual seats are listed for over $800. Here's a snapshot (as of Tuesday afternoon, February 28) of TickPick.com's available inventory for the SZA concert on March 2, 2023:
If you are buying from a third-party site, remember to buy from a reputable source and follow the suggested safety guidelines.
How Much Does Parking Cost for the SZA Concert at the Wells Fargo Center Philadelphia?
Parking is available at the venue, of course. As of this moment, you can purchase a parking spot in advance for $44 online using the Wells Fargo Center's SpotHero app.
You can pay onsite, but note that the Wells Fargo Center no longer accepts cash payments. They do, however, accept all major credit cards, and digital payments (including Apple Pay and Google Play).
The Wells Fargo Center's official parking rates appear to be listed at approximately $44 right now.
The exact times that the parking lots open have not been published, but they usually open around 5 pm for a concert.
There are no other major events posted at the sports complex that night, so that will make parking less crowded at least.
What is the Bag Policy at the Wells Fargo Center for SZA's Concert 2023?
The Wells Fargo Center prohibits bags inside the venue in accordance with league and event guidelines (including backpacks, Purses, Clear Bags, Fanny Packs, Camera bags, Drawstring Bags, Totes, and Suitcases).
Click here to learn more about the Wells Fargo Center's bag policy for entrances.
Are Purses Allowed at the Wells Fargo Center for the 2023 SZA Concert in Philadelphia?
Hand clutches, wristlets, and purses are permitted but must NOT exceed 4.5" x 6.5" with or without a handle and are subject to security inspection.
If you need a locker, they're available for prohibited bags. That is located on the Broad Street side of the arena. Lockers cost between $5 and $15, click here to read more. 
If you're going to the concert, have a great time. We can't wait!
These are the Hottest Pop Concerts Happening in Philadelphia in 2023
2023 will bring some of the best concerts from some of our absolute favorite artists to Philadelphia (including Taylor Swift, Ed Sheeran and P!Nk.). Here's a COMPLETE list of all of the shows (so far) & even details on how you can get tickets to Philadelphia's hottest concerts of 202