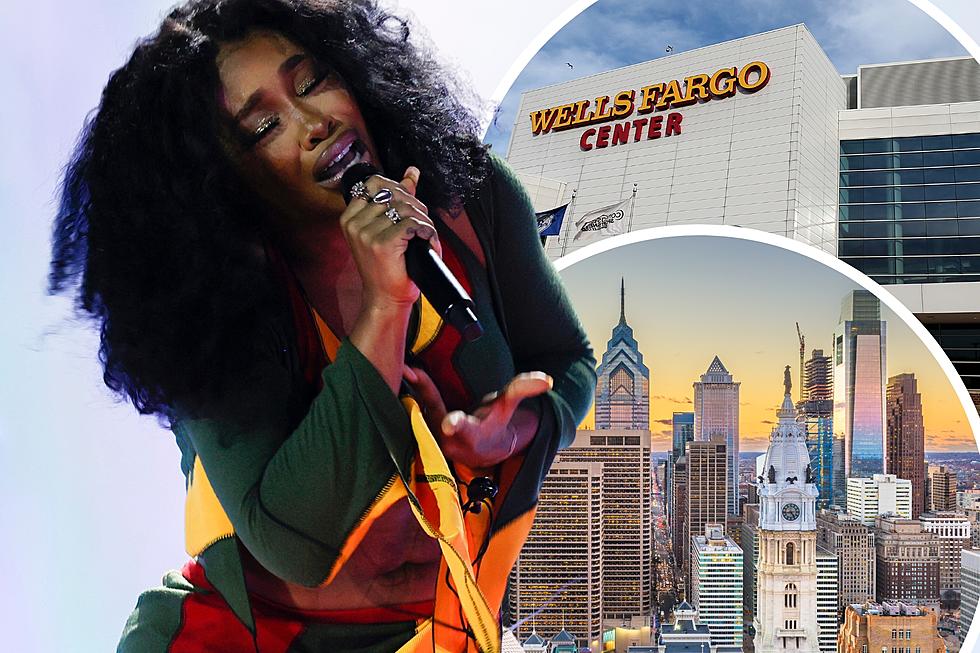 Everything You Need to Know For SZA & 'The SOS Tour' at the Wells Fargo Center in Philadelphia 2023
Composite via Getty Images & Canva
After being postponed back in March, the big day is FINALLY here this fall!
SZA is bringing her first headlining arena tour, SOS Tour with special guest D4VD, to the Wells Fargo Center in Philadelphia on Tuesday, September 26, 2023.
The tour is named after the insanely popular SOS album, which topped the Billboard 200 for much of the start of the year.
And the concerts have been living up to the hype so far, we cannot wait for SZA to arrive in the City of Brotherly Love. In fact, The Guardian called it the "voyage of a lifetime."
From setlists to parking to opening acts, we put together a list of EVERYTHING you need to know ahead of the show:
What Time Is SZA's Philadelphia Concert?
The "show" begins at 8:00 pm, according to arena officials at the Wells Fargo Center.
However, we have more insights on the set times posted below.
Is There An Opening Act for SZA's Concert in Philadelphia?
D4VD is joining SZA for some dates of the fall tour, and this includes the September 26 show at the Wells Fargo Center in South Philadelphia.
What Time Will SZA Perform in Philadelphia?
We've dug into the set times for other stops on the tour, and she appears to have taken to the stage around 9:00-9:15 pm each night so far.
Trust us though, if you're hanging out at the Wells Fargo concession stands or pregaming at Xfinity Live! before the show, don't push it too close.
It's probably best to be in your seat no later than 8:50 p.m. You don't wanna miss ANY of this completely sold-out show.
What Is the Setlist for SZA's Philadelphia Concert?
 We dug into some of their past shows to find what we expect their setlist to be on September 26.
We know, however, that not everyone wants to see that info ahead of time. Click here for the setlist, which may contain spoilers.
Are Tickets Still Available for SZA's Philly Concert? How Can I get Last-minute SZA tickets in Philadelphia?
Tickets for the postponed show, which was originally scheduled for March 2023, will be honored for all guests.
Meanwhile, the event appears to be COMPLETELY sold out on the Wells Fargo Center's official website. It is possible that some last-minute tickets may be released on the website this week, so keep checking back. We've seen it happen before, however, this is a hot ticket.
So there are, unfortunately, no guarantees.
However, we've checked some of the resale ticket websites like Stubhub.com and the TickPick app, and the cheapest seats we can find are priced over $200, as of Thursday
Prices will fluctuate, but some individual seats are listed for over $400. Here's a snapshot (as of Thursday, September 21) of TickPick.com's available inventory for the SZA concert on September 26, 2023:
If you are buying from a third-party site, remember to buy from a reputable source and follow the suggested safety guidelines.
How Much Does Parking Cost for the SZA Concert at the Wells Fargo Center Philadelphia?
Parking is available at the venue, of course. As of this moment, you can purchase a parking spot in advance for $44 online using the Wells Fargo Center's SpotHero app.
The Wells Fargo Center's official advanced parking rates appear to be listed at approximately $44 right now.
You can pay onsite, but note that the Wells Fargo Center no longer accepts cash payments. They do, however, accept all major credit cards, and digital payments (including Apple Pay and Google Play).

SZA in Philly - Setlist
Parking on-site for recent concerts has cost $35 the day of the show.
The exact times that the parking lots open have not been published, but they usually open no later than 5 p.m. for a concert.
Here's a map of the lots that are available for parking: 
Heads Up! The Phillies Play on Tuesday Night
As a heads up, the stadium complex will be quite busy on Tuesday evening.
The Philadelphia Phillies are scheduled to take on the Pittsburgh Pirates at 6:40 p.m. The parking lots should be quite busy in the stadium complex when you're arriving.
Are Purses Allowed at the Wells Fargo Center for the 2023 SZA Concert in Philadelphia?
Hand clutches, wristlets, and purses are permitted but must NOT exceed 4.5" x 6.5" with or without a handle and are subject to security inspection.
If you need a locker, they're available for prohibited bags. That is located on the Broad Street side of the arena. Lockers cost between $5 and $15, click here to read more.
13 Jersey Girls Cheering for the 2023 Philadelphia Eagles
Even though they perform in Philadelphia, New Jersey will be well-represented on the 2023-2024 Eagles cheerleading squad.