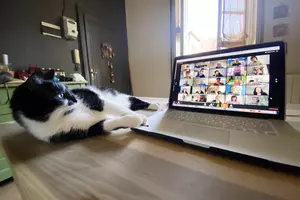 20% of Americans Had Someone Walk in the Background of a Video Call Nude
Photo by Vittorio Zunino Celotto/Getty Images
I think it's safe to say we've all been doing video calls a lot more recently given the circumstances.  Working from the comfort of your home, plus Zoom can equal a recipe for disaster.
SWNS conducted a survey asking Americans how they feel about technology during the quarantine. Turns out, a lot of people have had embarrassing moments during video calls.
Here's a breakdown of the stats.  According to SWNS, conducted by OnePoll on behalf of Jasmin, about 61% of people said that they love video calls. 44% have taken the plunge to video chat with a total stranger. 45% of people said they do it just to meet new people and have fresh faces. The most common form of communication has been video chatting, then texting, then picking up the phone to call someone.
But, video calls can get a little scary at times when you're home with your family, significant other, or anyone else you may live with. 20% of people have had someone walk in the background of their conference call or meeting butt naked. Adding to that, 15% of people have been caught talking to their families or yelling at their kids. 18% of people have been caught not wearing pants and 11% of people have been called out for day drinking.
Some other embarrassing moments include not changing the background, falling asleep, forgetting the camera was on in the bathroom, and family members interrupting the video call. We've all had our fair share of embarrassing moments on Zoom, here's to many more in the future to come.
TOP EMBARRASSING THINGS TO HAPPEN WHILE ON A VIDEO CALL
Talked for a while before realizing I was on mute                           31%
Forgot to mute myself and said something embarrassing              29%
Had someone enter the room and interrupt the video call              27%
Forgot my camera was still on when I went to the bathroom          22%
Had someone walk in the background nude                                   20%
Wasn't wearing pants and didn't realize everyone could see         18%
Had someone do something embarrassing in the background      18%
Forgot to mute myself before taking a screenshot of the call         16%
Got caught talking to my pets                                                         15%
Yelled at my children without muting myself                                   15%
Forgot to change the background image                                        13%
Got caught day drinking                                                                  11%
Fell asleep                                                                                         9%
Beautiful views of the Barnegat Lighthouse