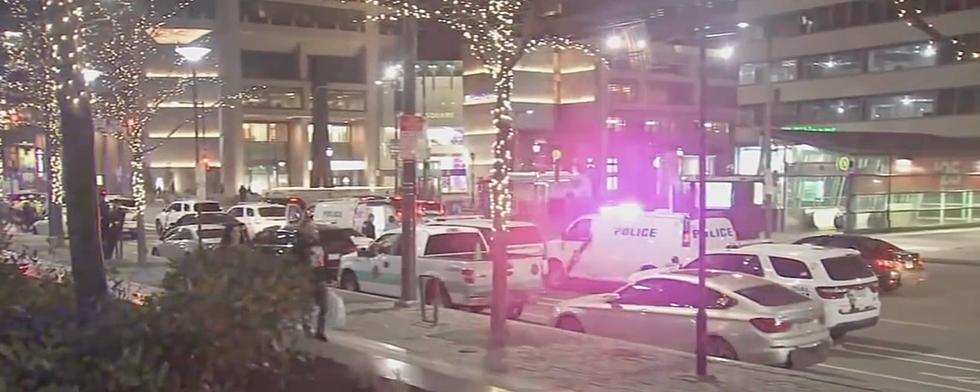 CHAOS in Center City! Hundreds of Teens Lead Violent Philadelphia Flash Mob Wednesday Night
6 ABC, WPVI
Hundreds of teenagers apparently caused a chaotic night in Center City Philadelphia on Wednesday (April 5).
It all started around 8 pm near the Fashion District. that's about the time that police responded to a fight inside (or near) the mall, according to some published reports.
Police worked to disperse that crowd, but the flash mob then continued to work its way through Center City, according to reports.
The teens flocked towards City Hall, Dilworth Plaza, and the Fashion District, police told many local media outlets.
In fact, some reports indicated that about 500 teenagers were involved in the flash mob at its peak. Police say the situation was under control by about 8:25 as more officers responded to the scene, The Inquirer reports. 
Videos from the area showed the chaos:
During the encounter, the group of teenagers apparently became violent. They reportedly climbed traffic lights and reportedly vandalized at least one cop car.
They did not, however, throw rocks at any officers in spite of earlier reports suggesting they did, The Inquirer reported on Thursday. Four teenagers were issued citations as a result of the incident.
One officer was injured during the melee, but police say that officer is recovering from non-life-threatening injuries. The officer suffered an ankle injury chasing a suspect. 
"Tonight, a large group of mostly young people was being destructive and disruptive in Center City," Mayor Jim Kenney tweeted just after 10 pm on Wednesday. "This dangerous behavior will not be tolerated."
Eyewitnesses say the crowd completely dispersed by about 10 pm.
Philadelphia's public schools, by the way, are on Spring Break this week
These are the Hottest Pop Concerts Happening in Philadelphia in 2023
2023 will bring some of the best concerts from some of our absolute favorite artists to Philadelphia (including Taylor Swift, Ed Sheeran and P!Nk.). Here's a COMPLETE list of all of the shows (so far) & even details on how you can get tickets to Philadelphia's hottest concerts of 202