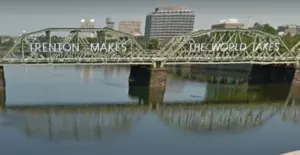 The Trenton Makes Bridge Will Close for The Filming of a TV Show
Credit - Google
The Trenton Makes Bridge will be closed on Friday night for the filming of a popular TV show.
So the TV filming will place between 8 pm Friday (December 7) until 6 am Saturday (December 8). Most of the filming will take place on the Pennsylvania side of the bridge in Morrisville, according to LevvittownNow.com.
Exciting!  It's a CBS owned Eye Productions TV series called, Elementary. Honestly, I've never heard of it before, but apparently, the show is a big enough hit that it's in its sixth season. It's a crime drama starring Jonny Lee Miller, Lucy Liu, Jon Michael Hill, Aidan Quinn, and John Noble.
There's been no official word on whether or not any of the stars will be on set. The scene they're going to shoot involves stunt drivers driving NYPD cars. So if you see an NYPD car, don't be surprised. In fact, crews are expected to set up the film scene on Thursday, according to the report.
Additionally, Bridge Street will be blocked at Delmorr Avenue. They'll be setting up the shoot and taking it down on Thursday and Saturday, but, it's not supposed to mess up traffic.
Did you know that the Trenton Makes bridge has been in at least one movie that I have seen? It was featured Michael J Fox movie, but I can't remember the name. I think it was called "The Secret to My Success," right?