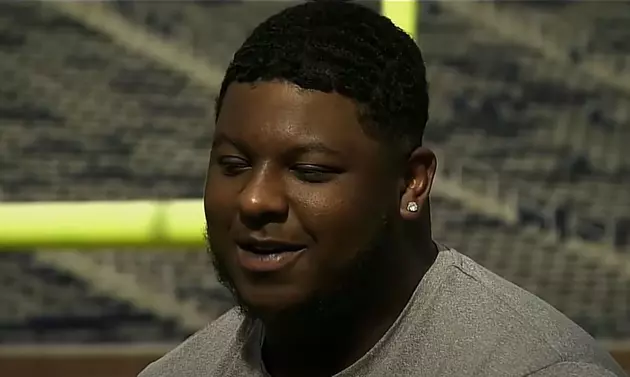 Tonight Should Be a Big Night for Future NFL Player from NJ
Credit: YouTube/Big Ten Network
Sports have been on hold for weeks due to the Coronavirus pandemic.  No baseball.  No basketball.  No hockey.  Basically, no nothing, but tonight, sports fans will finally get a live event they can watch.
Tonight, the NFL Draft will air on the NFL Network and ESPN, and while it won't be a huge event like the one that happened 3 years ago in Philadelphia, it will still be must-see for all football fans.
Tonight should also be a big night for a 20-year old from Camden, NJ.  His name is Cesar Ruiz and he is expected to be a first-round selection in tonight's draft.
Ruiz was a standout player at the University of Michigan.  According to the Detroit Free Press, Ruiz is " considered the top center and interior offensive lineman in the draft" and that his "draft stock seems to be as high as ever."
A mock draft on NFL.com projects Ruiz being drafted by the Miami Dolphins at pick 26. Other projections have him going to the New England Patriots, New York Giants, or Baltimore Ravens.
Unfortunately, Ruiz's father will not be here to see his son get drafted into the NFL.  According to an article on latimes.com, Ruiz lost his father at the age of 8 when his dad was killed on the side of a South Jersey highway.  LATimes.com says Ruiz's father, also named Cesar, was struck by a car while trying to help another driver change a tire.
Ruiz told the LA Times, "If my dad was here to see what I'm doing right now, he would be mind-blown. So I'm still playing for my dad, I still play through my dad, my dad still lives through me."
For info on all of the ways you can watch the NFL Draft tonight, click here.