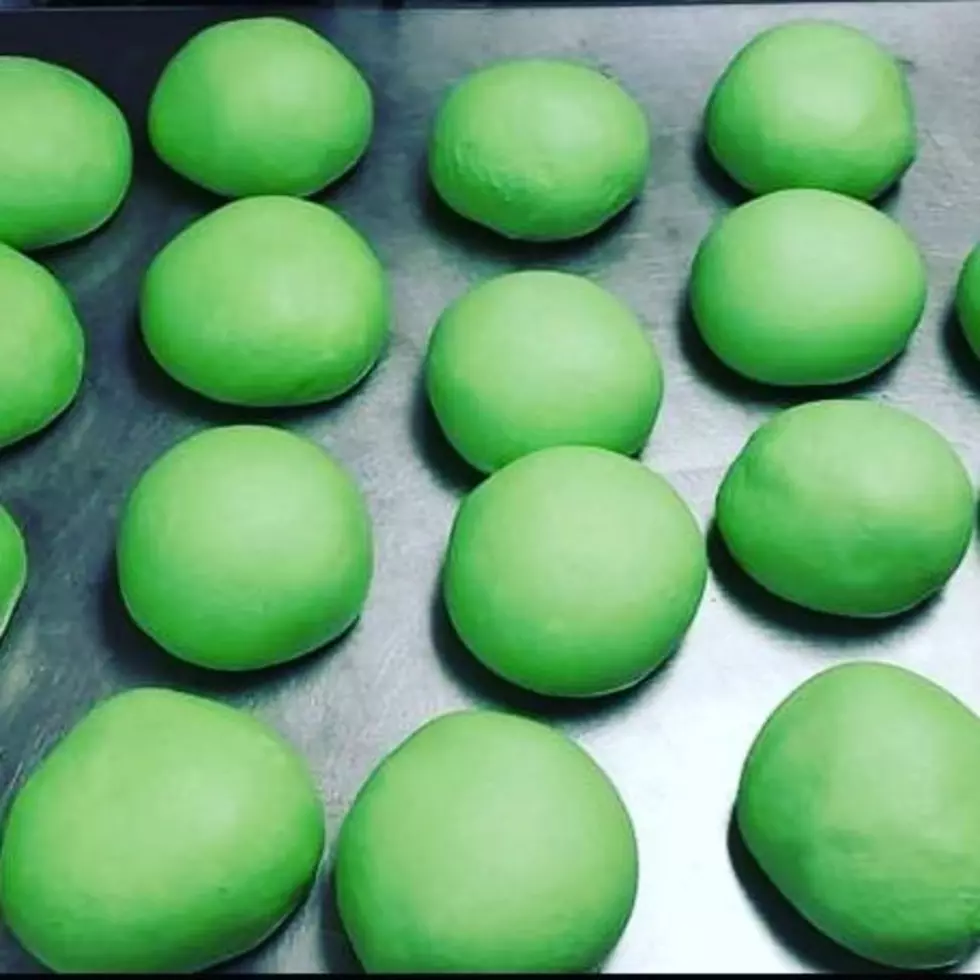 Get Your Philadelphia Eagles Green Pizza on Sunday at Hamilton, NJ Pizza Shop
Marcello's Pizza Grill
Everybody's going green this weekend including a pizza shop in Hamilton Township (Mercer County).
I'm not talking about environmentally friendly green, I'm talking about Philadelphia Eagles green. Fly Eagles Fly.
Unless you've been living under a rock, you know the Eagles are one win away from going to the Super Bowl. The big NFC Championship game is Sunday afternoon (January 29th). Kick off is 3pm. The Eagles are taking on the San Francisco 49ers.
Are you having some friends over to watch the game? You're going to need some good food...some good green food. C'mon, it's a Philly thing. I've seen that phrase everywhere lately.
Marcello's Pizza Grill on George Dye Road in Hamilton is making GREEN PIZZA on Sunday. I love it. It's so fun and would fit in perfectly with your Eagles theme, Hey, maybe it will bring the Eagles luck and get them another WIN.
Check out the green pizza dough balls...
Make sure you get yours by pre-ordering it right now. You don't want to be left out. Call Marcello's Pizza Grill at (609) 586-5770.
Marcello's Pizza Grill is also home to Sally Slices. You know who Sally Slices is, right? He's a Tik Tok star with over 4 million followers and a million followers on Instagram as well. He's also the son of the owners of Marcello's Pizza Grill.
I love their Corleone pizza so when I go in there I'm always on the lookout for Sally Slices (his real name is Salvatore).
He makes pizza and always asks his customers, "Corner or a side?" Get it? He wants to know which kind of slice you'd prefer...a corner or side piece. Personally, I like the corners.
Don't forget to pre-order your Philadelphia Eagles green pizza for Sunday's game by calling Marcello's Pizza Grill at (609) 586-5770.
Go Birds!
Tinsel Takes Flight — A Philadelphia Eagles Pop Up Bar — Opens in Center City
Tinsel Takes Flight is now open 7 days a week at 116 S 12th St in Philadelphia, Pa. They'll be open through the football playoffs as we hope to cheer on our team. Check out how AWESOME this place looks on the inside too:
Where Are They Now? Looking Back at Philadelphia TV's Most Famous Anchors
From John Bolaris to Larry Mendte and from Lisa Thomas-Laurie to Renee Chenault-Fattah, Philadelphia's media landscape has been shaped by some of the nation's most iconic anchors (and reporters). But where are they now? We take a look back: