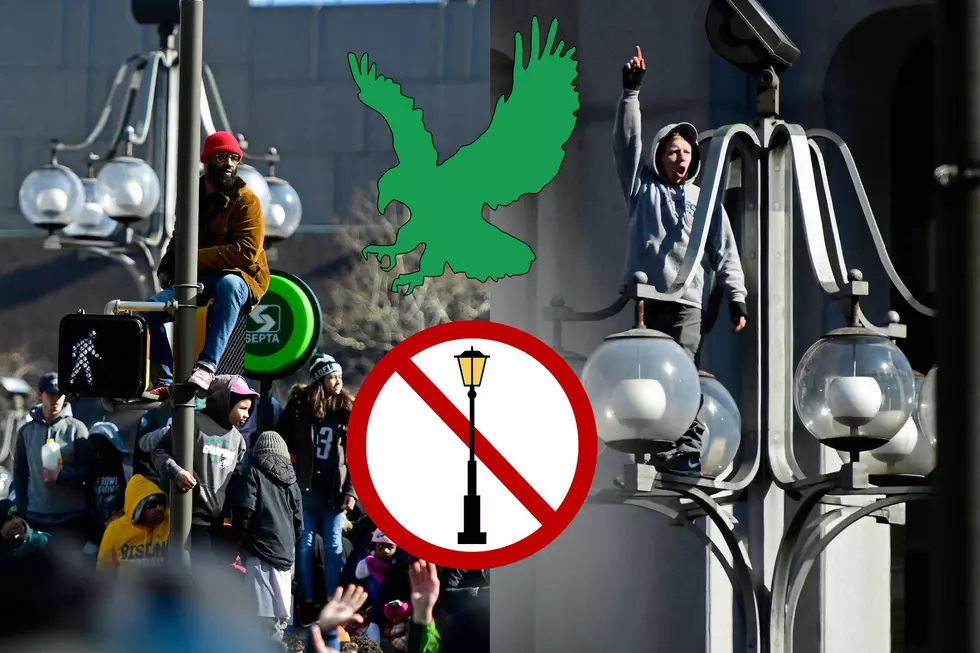 Yep, Philadelphia Will Grease City Poles Again Ahead of Eagles NFC Championship Game
Getty Images
It's a Philly thing.
With the Philadelphia Eagles just one game away from returning to the Super Bowl, the City of Philadelphia is prepared to once again brace for the pandemonium that will inevitably hit the streets if the birds secure a win over the San Francisco 49ers.
According to Fox29, The Philadelphia Police Department will grease the street poles of the city as a safety precaution ahead of the big game on Sunday.
The reason is simple, and has become a routine order in the event of victorious Philadelphia sports games: Don't climb the poles. 
You remember how things went down in 2018 when the Eagles beat the New England Patriots at Super Bowl LII.
In addition to the pole greasing, the police department will also station officers on the streets to prevent rowdy crowds from climbing the poles, and from creating too much mayhem in general. And mayhem is very likely if the Birds do win.
However, the poles aren't the only thing city officials have to worry about. Poles aren't the only things fans can climb...
There are trees.
Buildings.
Statues.
Even porta-potties!
So it goes without saying, that whether or not die-hard Philadelphia Eagles fans listen to the order not to climb the poles (or anything) however, is another story.
Win or lose, be safe!
GO BIRDS!
---
Tinsel Takes Flight — A Philadelphia Eagles Pop Up Bar — Opens in Center City
Tinsel Takes Flight is now open 7 days a week at 116 S 12th St in Philadelphia, Pa. They'll be open through the football playoffs as we hope to cheer on our team. Check out how AWESOME this place looks on the inside too:
Where Are They Now? Looking Back at New York City TV's Most Famous Anchors & Reporters
From Sue Simmons and Roz Abrams to Ernie Anastos and Jim Rosenfield, New York City's media landscape has been shaped by some of the most iconic anchors (and reporters) ever. But where are they now? We take a look back: